Eating in Porto
What to eat and where
Restaurants in Porto
After several hours exploring all there is to see in Porto you will be very hungry. In Porto, food and wine are two issues that are taken very seriously.
In this guide of restaurants in Porto we want to include as many recommended options as possible. Starting with those proposing the bargain meals, to the most recent restaurants, with more expensive menus.
The way we organized this section of the guide is as follows: first we give you some general information, then we tell you what dishes you should try, and at the end, we present a list of restaurants that have never disappointed us.
How much does it cost to eat in Porto
One of the great advantages of Portugal, and in this case, Porto, is that eating out is not expensive. Whether you want to indulge in a little luxury or eat on a low budget, it will always be cheaper than the majority of the European countries.
A lunch with house wine, soup, main course and dessert is around 9 euros in the popular places. A francesinha is around 9€ / 11€. A cod dish 12€ and if it is part of the "day specials" it can cost between 6€ and 8€.
"Today's special menu" (Menu do día or Pratos do dia in portuguese) is served from Monday to Friday only at lunchtime, and you are going to love it. It is a menu that changes every day and offers dishes for a cheaper price than the regular menu. The biggest advantage is that more expensive restaurants also offer it. The menu usually includes at least a main course and a drink in the 7€ to 15€ range.
What to eat in Porto?
Francesinha
The Francesinha is Porto's signature dish. It is a sandwich dipped in a sauce (very tasty) a bit spicy made with tomato and beer. Inside the francesinha there is sausage, fresh sausage, ham and beef steak. The sandwich is wrapped in a layer of melted cheese.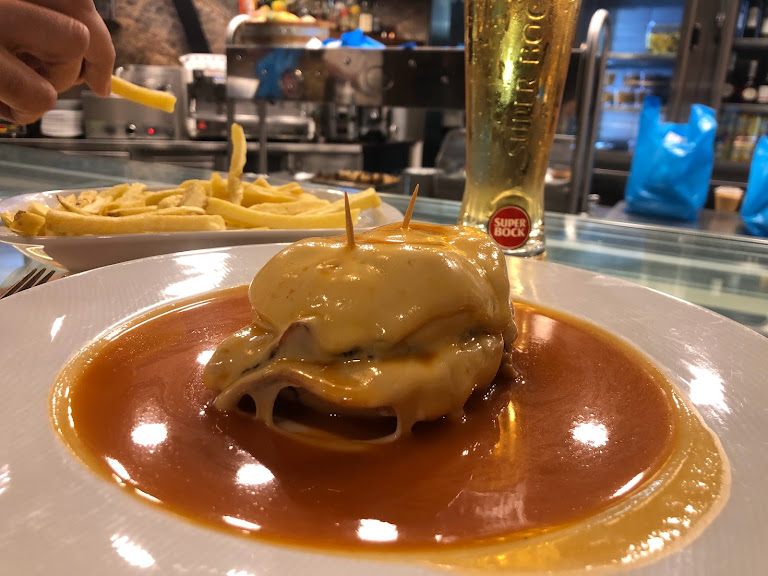 As if all those calories were not enough, it is served with french fries, which you can dip in the sauce. The "francesinhas especiales" also have a fried egg or shrimp on top. These are only for the bravest stomachs.
We have gathered in this post the best places to eat francesinha in Porto.
Cod
The Portuguese have more than a hundred ways of preparing cod, and it is a dish always served in traditional restaurants. Although it is not a local fish, catching it and the process of drying it with salt is part of Portuguese traditions and culture.
Roasted cod with lots of olive oil and potatoes is the simplest and an everlasting favorite. You can also eat it baked with cream and mashed potatoes cooked au gratin (bacalhau com nata), in batter or in croquettes (pasteis de bacalhau).
Tripas à moda do Porto
As the name suggests, the basic ingredient is beef tripe. It is a historical recipe that dates back to the time of the Portuguese discoveries, in the 15th century. The leader of such expeditions, the Infante Don Henrique, asked the inhabitants of Porto to deliver all the food to the navigators of these ships, who filled the vessels with all kinds of salted meats. The city was left with only the guts and other parts of the animals that are not normally consumed, such as the limbs of the cows and the ears of the pigs. All that was left was cooked together and a recipe was born.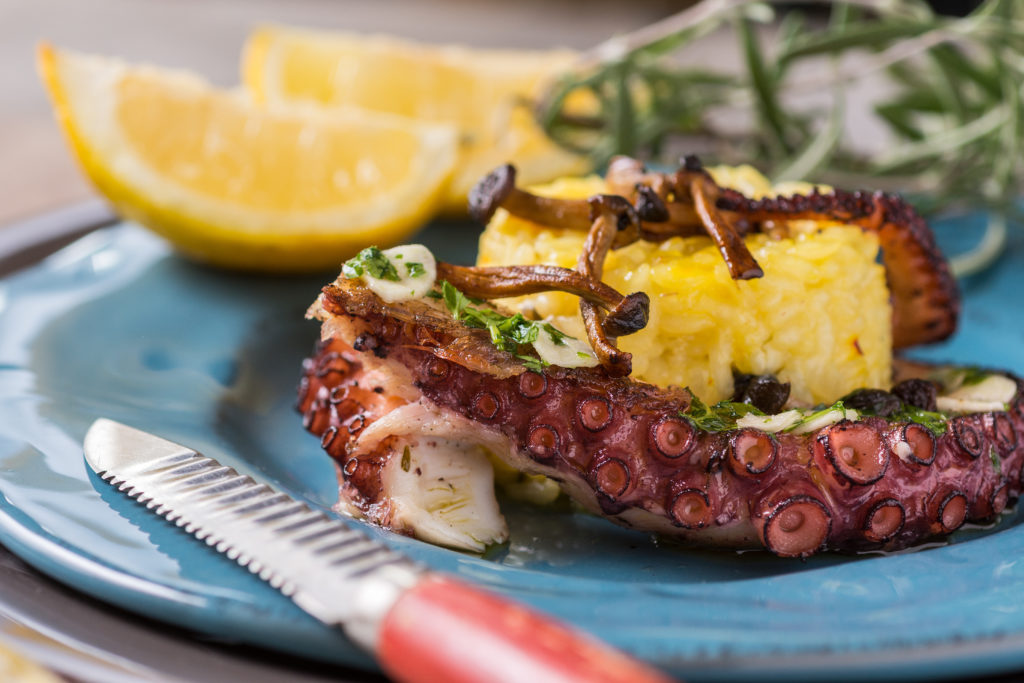 Octopus, shrimps, lulas
As good neighbors of the sea, seafood is part of many Portuguese recipes, and every traditional restaurant will have some of it. Octopus (which in Portuguese is called polvo) can be boiled, grilled or baked with plenty of olive oil (à lagareiro). Shrimps and lulas (calamari) can be grilled on skewers, cooked or fried. They are almost always served with arroz de feijão, i.e. rice with beans, or rice with tomato, as well as fried potatoes and salad.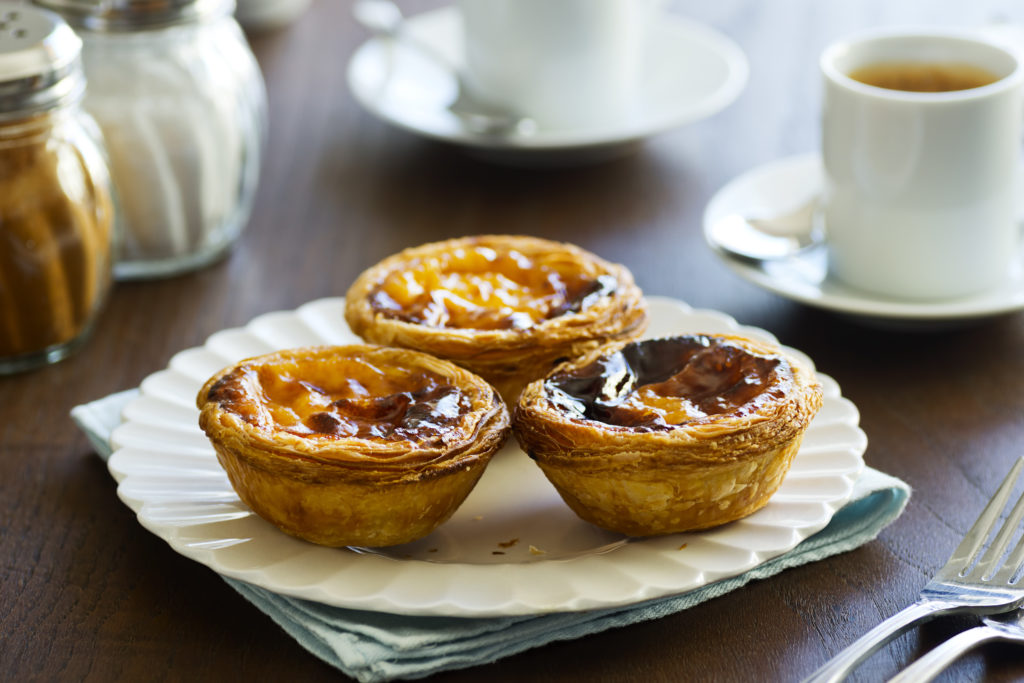 Custard cakes
Yes, it's true that the original pasteis de nata were made in Belém in Lisbon, but that doesn't mean that in Porto we can't bake them. Did you think we could live without pasteis de nata?… If you want to try a real delicious and crunchy custard cake, you should go to a place where they are made all day long. For example in a café called Manteigaria, next to the Mercado do Bolhão.
Recommended restaurants in Porto
Traditional Portuguese food
Casa Guedes Restaurant
Casa Guedes has the best pork shank sandwiches we have ever eaten. Perfect place to grab a quick bite at very reasonable price. The pork shank sandwich costs 3€.
Address: Praça Poveiros No. 130. Porto
Opening hours: Mon – Sat: 8:30 – 22:00 (closed on Sundays)
Antunes Restaurant
A family restaurant very popular among Portuguese people with a traditional menu. The pork shank roast is the most popular dish.
Address: Rua do Bonjardim 525
Opening hours: Monday to Saturday 12:00 – 15:30 | 19:00 – 22:00 (closed on Sundays)
Portucale Restaurant
Serving locals and tourists for more than 40 years, its dining hall is a vintage treasure and has unique views over the city. The menu proposes traditional Portuguese as well as international cuisine options. It is not cheap, but booking using The Fork (see info at the top of the page for code) can get you a discount.
Address: Rua da Alegria 598Porto
Opening hours: Open every day from 12:30-14:30 and then from 19:30-22:30
Flor dos Congregados Restaurant

The oldest restaurant in Porto, established in 1852. Revel in typical Portuguese dishes of outstanding quality served in a cozy rustic atmosphere. Some of its specialties are : caldo verde (classis soup from northern Portugal), chorizo, alheira, Porto style tripes, Rojões (pork), sea bass, sea bream, sausage boards and cod croquettes.
Address: Tv. dos Congregados 11 4000-114 Porto Portugal
Opening hours: Lunches from Thursday to Saturday from 12:00 to 15:00 / dinners from Monday to Saturday from 19:00 to 23:00.
A Tasquinha

A Tasquinha is a cheap restaurant well-known for its octopus dish. In the menu you find other sea options, such as cod. It is near Cordoaria and the average cost per person is around 10 euros.
Address: Rua do Carmo, 23. A 10 minutes' walk fom Aliados metro station.
Opening hours: Daily from 11am to 10pm. Closed on Sundays.
Calhambeque

You can drop by for a reasonably priced meal at lunch time or at the end of the day in Restaurante Calhambeque.
Address: Rua do Carmo, 19
Opening hours: 11am to 11pm
O Escondidinho

O Escondidinho is a good option to eat traditional Portuguese cuisine and local dishes. Located a few meters from Rua de Santa Catarina. If you are an adventurer and want to try the Tripas a moda do Porto, this is a good place to do it. Even though a full meal is around 35€ per person, the price/quality ratio is very reasonable.
Address: Rua Passos Manuel, 142, 4000-382 Porto
Opening hours: Daily lunch from 12:00 to 15h and dinner from 19 to 23h
O Caçula

Good options for both, carnivores and vegetarians. Recommended for lunch.
Address: Praça de Carlos Alberto 47, 4050-157 Porto
Opening hours: 11:00-15:00 and 19:00-23:00 closed Tuesdays and Wednesdays
Bacalhoeiro

Eating cod when visiting Portugal is one of the key experiences of your voyage. We cannot fail to recommend Bacalhoeiro, which as its name suggests, is specialized in preparing Bacalhau (cod) according the classical Portuguese recipes. Between 20€ and 35€.
Address: Avenida Diogo Leite, 74
Cafeina

For those who want something relaxed and luxurious at the same time, we recommend Cafeina,
a modern and cosmopolitan option. At noon it has a menu for 16 €. At night expect to pay around 30 € per person. Located also in the Foz area.
Address: R. do Padrão 100, 4150 Porto
How to get there: Bus 500
Opening hours: Daily 12:30pm to 00:30 am
Lagostim

Traditional cuisine in the heart of the city center. Good food and good service, although they tend to take a while to serve. 15€-25€ per person.
Address: Praça Dona Filipa de Lencastre 198
Opening hours: 9am to 11pm. Closed on Saturdays.
Churrasqueira Moura

Typical Porto churrascaria. Traditional food and abundant dishes at very reasonable price. 10 € per person.
Address: Rua do Almada 221
Adega Vila Meã

Traditional Portuguese atmosphere with a plain decor. Since 1976 it serves typical Portuguese dishes (in abundant quantities!). Tip: portions are large, be careful when ordering. 20 € per person.
Address: Rua dos Caldeireiros 62, 4050 Porto
Pedro dos Frangos

Typical Portuguese churrasqueira serving grilled meats and traditional food. Well-known for its roasted chickens. Another reasonable price option. 10-15€
Address: Rua do Bonjardim 223
Opening hours: Every day from 11:30-22:30
Conga

A well-known place for the bifanas, which are pork sandwiches in spicy tomato sauce.
You can check here what's a bifana, which can actually be quite spicy. 10 € per person.
Address: Rua do Bonjardim 314
Opening hours: Monday to Saturday 9:00-2:00 Sunday 11:00-00:00
Assador Típico

Restaurant specialized in grilled meats and fish at affordable prices (they serve large quantities). Large dining room and from time to time, there can be live music in one of the rooms at night (if you don't appreciate loud spaces you can seat in another room). The "Espetada à Transmontana" is a good option for 2 people, especially if you had appetizers. 20€ per person.
Address: Rua D. Manuel II 22
Nabos da púcara

A highly recommended place in Cedofeita neighborhood to eat delicious tapas along a fairly wide selection of Portuguese wines. The fish soup and sweet potato pudding are very popular.
Address: Rua da Picaria 40, Porto
Opening hours: Closed on Mondays. Open the rest of the week from 10h to 23.30h.
Tavi

Tavi, in the Foz area has been open since 1935 and can be considered an emblem of the city. It has a pleasant atmosphere and nice views of the sea.
Address: Rua Senhora da Luz 363, 4150 Porto
How to get there: Bus 500
Opening hours: Daily from 7:30 am to midnight
International cuisine
Frida

Frida has an authentic Mexican menu. This place is not the typical Tex-Mex eatery resulting from the internationalization phenomenon. On the contrary, it is a celebration of the Mexican rich gastronomical culture. 25€ per person.
Address: Rua Adolfo Casais Monteiro 135
Hours: From Tuesday to Sunday from 12.30h to 15h and from 20h to 24h
Bao's
Asian restaurant specialized in bao buns and other options, including vegetarian and vegan dishes.
Address: R. de Cedofeita 263, 4050-174 Porto
Opening hours: Open daily at 12.00. Fridays and Saturdays closes at 24h, the rest of the week closes at 23h.
More about eating in Porto