Porto Francesinha
Don't leave without trying it!
Porto Francesinha
Eating a francesinha in Porto is a sort of culinary ritual for those visiting the city for the first time. As you may have already seen in our section on Porto restaurants, this dish was created in this same city of the north of Portugal.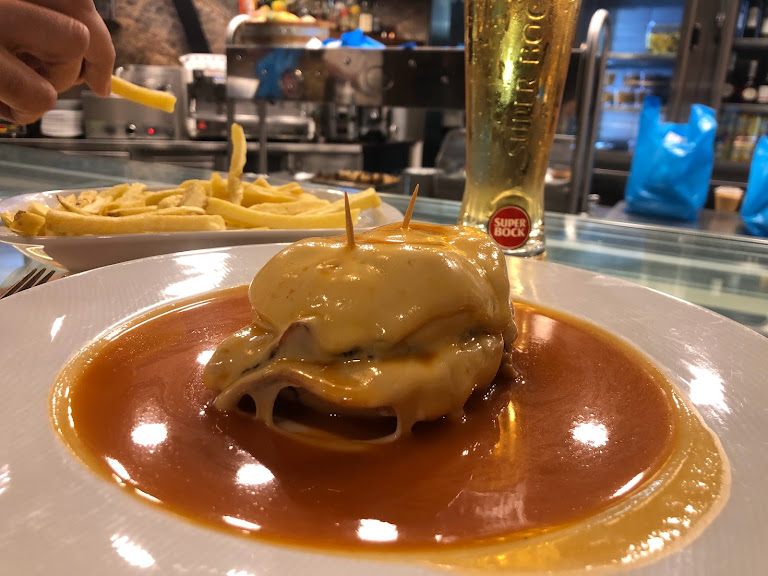 What is a Francesinha
The Francesinha is a sandwich, or rather, it is a caloric bomb filled with two types of Portuguese sausages, ham, beef steaks, melted cheese around it, and a very mild spicy sauce containing tomato and beer.
Delicious!
The filling we just described is put between two slices of toasted white loaf bread, stuffed with everything we told you above (although there are variations and even vegetarian francesinhas) and then covered with the cheese before taking it to the grill. Finally, the sauce is poured so that you have loads of it in every bite.
It is served with fried potatoes and a fried egg on top. These last two ingredients are optional. However, we warn you: not dipping the fries in the sauce is missing a key part of the experience 😉
Origin
It is said that the francesinha was created by a Portuguese emigrant who tried to make a local version of the French, "Croque Monsieur".
How much does a Francesinha costs?
It is a very elaborate and abundant dish, so don't be surprised that its price is between 9€ and 12€. Although it is considered a "sandwich" it is much more than that.
Don't ask for anything extra, not everyone manages to eat the whole thing the first time.
Where to eat Francesinhas in Porto
This section is VERY IMPORTANT. Eating francesinhas in the wrong place can ruin your experience. Anyone serves this dish, but not everyone does it with mastery of flavors and quality of ingredients.
One thing we use to do is to ask people we know what is their favorite spot to eat francesinhas? Then we go and try them in order to keep our top places up to date. But if you visiting the city for a few days, you won't have time (or stomach) for that. That's why we'll give you the name the most popular ones:
Lado B ( Rua Passos Manuel, 190)
Café Santiago (Rua Passos Manuel, 226)
Bufete Fase (Rua de Santa Catarina 1147)
O Golfinho (Cedofeita, Rua de Sá de Noronha 137)
We also publish what we consider to be the best eateries off the touristic districts Check them here (external link).
Enjoy without remorse! you are on vacation 😉
More about eating in Porto