Port Wine
How it is made, where to taste it, where to buy it and the best Port wine cellars
Port Wine
Port wine, or port, is a fortified wine to which distilled grape spirits (usually brandy) is added before fermentation is complete. This process stabilizes it and allows it to retain the sweetness of the grape and the aroma that characterizes it.
Some of the grapes most commonly used for its production are Tinta Roriz, Tinta Barroca and Touriga.
Where Port Wine is produced
The wine is not produced in Porto but in the Alto Douro Wine Region, declared by Unesco as a World Heritage Site.
When the wine is ready, it is kept and aged in the cellars located just in front of the Ribeira, in Vila Nova de Gaia, District of Porto. And it is from here that it is exported to the rest of the world.
The beautiful Douro Valley
The vineyards, 100 kilometers from Porto, are on very steep terraces, which have been used for the same viticultural purpose for more than two thousand years. The valley has an intricate geography that does not allow to industrialize the process.
That is to say, it is people and not machines that must harvest the grapes, carry them on their shoulders where they are collected in large quantities. Because of this great cultural value, it is an area protected by Unesco as a World Heritage Site.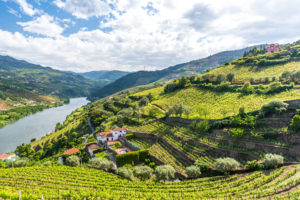 Once the grapes are harvested, and shortly after fermentation begins, the grape juice is mixed with a neutral wine spirits. This cuts the fermentation of the fruit sugar, so it remains a sweet wine. This type of wine is known as fortified wine, and as such, has a high percentage of alcohol by volume: between 19 and 22 degrees.
💡 Tip: Take this Douro Valley Tour and enjoy a day trip there.
Types of Port Wine
Ruby
This is a red wine that ages in huge barrels (20,000 liters) for 8 to 10 years. The little contact with wood (and air) reduces oxidation, thus allowing the wine to retain its initial characteristics for a longer period. Its color is darker than the others and tastes more like red fruits.
Tawny
This wine is made from the same grapes as Ruby, but aged only for 2 to 3 years in the same huge barrels, to be then transferred to smaller barrels. The smaller barrels allow more contact with the wood and air, so the wine oxidizes and ages more rapidly. As a result,the color will be lighter (amber tones) and the tasting notes will be dried fruits, nuts and almonds. The longer they age, the more flavor the tawny wines acquire.
White Por
White port is made in such a way that the must and the skins of the grapes are separated and fermented in large oak barrels of more than 20 thousand liters. Unlike red wine, it is classified by its sweetness, as dry, medium-dry and sweet white port wine. However, because of the way it is produced, these type of wine will never be completely dry.
Rosé Port
Rosé Port is a more recent trend. For its production, the time of exposure of the must and the grape skin is controlled.
Special categories of Port wines
These categories allow to rank the best Port wines.
Reserve
It is produced from selected high quality grapes and can be either white or red. They are usually aged for 7 years in wood and then bottled. They do not age inside the bottle, so it can be kept upright and once opened, it should be consumed within a period of 6 months or less
LBV Port
The name derives from the acronym "Late Bottled Vintage" and are produced from a single exceptional vintage. They age from four to six years inside barrels, and then are bottled. Since they continue to evolve inside the bottle, it is recommended to keep them lying horizontally, but unlike the Vintage category, it is not advisable to wait too long to open them. In a way, the LBVs can be similar to the vintages in flavor, but without the need of long aging years.
Aged Tawnies
These are Tawnies that have been in large oak barrels for more than 10 years. They are one of the most expensive on the market, as the flavor is truly exquisite and unmistakable, experts say.
Colheita
Colheita means harvest in Portuguese. These wines are from a single harvest, which has been classified as special by the Port Wine Institute. On the label we find the respective year of the harvet, which subsequently spent 12 years in small wooden barrels, so they usually have very light colors. The taste of a vintage wine is similar to a 20-year-old Tawny.
Vintage
This is the best designation for a port wine. They have enormous aging potential because they were made from the best grapes chosen for this purpose. First, they are aged for two to three years and then bottled unfiltered, so they still have shavings of the legendary wood from the barrels, which allows them to continue maturing inside the bottle. It is very important to keep the bottles in a horizontal position during the aging process, which never is less than 4 years. In the wineries we can get bottles that have been aging for years and even centuries. They can be opened immediately, but beware, prices are very high.
When to drink Port Wine
Port wine is served at room temperature, in small liqueur glasses, as an aperitif or as a digestif. In Portugal, it is common to find it as a dessert, accompanying cheeses. It also combines very well with dark chocolate, dried fruits and fruit preserves.
Port Tonic
Port Tonic is rapidly gaining popularity. It is a fresh, light and sweet drink made with white or rosé Port Wine and tonic water. Then just add ice and, if you wish, a slice of lemon or orange and some mint leaves.
Visiting the Port wine cellars
Visiting Porto involves visiting some of its wineries and tasting these extraordinary wines, which make a wonderful journey before reaching our palate.
If you want the full experience, you can go to the Douro Valley and visit the quintas (the Portuguese word for estate) where the grapes are grown and the wines produced. A highly recommended excursion.
Visit the wineries of Porto