Shopping in Porto
Shopping streets, outlets and street markets
Shopping in Porto
Shopping in Porto is an activity that can be adjusted to all type of audiences and interests.
For some, traveling is associated with shopping. Bringing back something from the place we have just visited is the equivalent of a treasure found, a special object that will allow us to connect with what we have experienced. Other people instead, prefer spending their time doing other activities, but still want to bring something back home.
In Porto you will find several shopping streets with brick-and-mortar businesses, big international retailer chains and galleries and studios with more unique and special products. In several districts there are also shopping malls and even an outlet, on the outskirts of the city.
Brick-and-mortar businesses and shopping streets
Rua de Santa Catarina
Porto's main shopping street is Rua de Santa Catarina, where amidst a lively atmosphere, with street performers and lots of movement, you will find all kinds of local and international stores, plus restaurants, bookstores and a couple of churches with tiled façades ( Capela das Almas and the Church of San Ildefonso).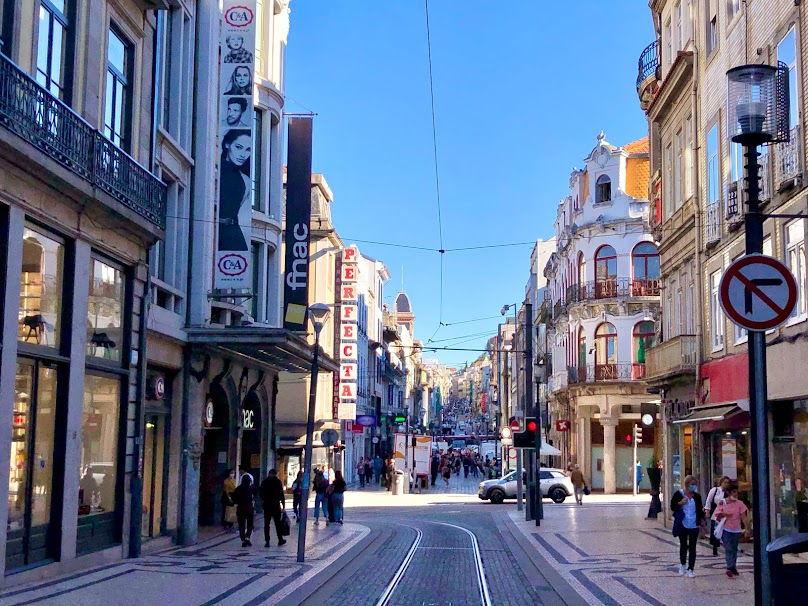 It is much more pleasant to shop here than in a shopping mall, as you get to enjoy the beautiful façades of the buildings and get a view of the city spirit, as you leave one store to enter the next.
Rua de Santa Catarina is also home to the famous Café Majestic and nearby, in one of the streets that crosses it, is the fascinating Mercado de Bolhao. A century old building that houses the municipal market, for those who want to opt for the more traditional way of shopping in Porto. (Listening to the fish sellers tell you "Meu amore" is always worth it).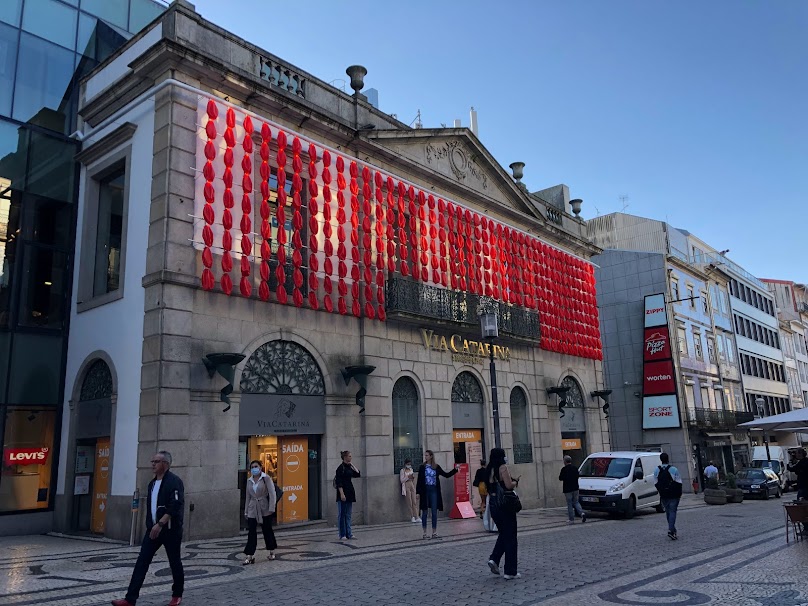 Via Catarina Shopping Center
There is also on Rua de Santa Catarina a small shopping center, the Via Catarina. It has four floors with several stores, some Portuguese firms, but mainly, the typical international brands found across European shopping malls. It offers also typical shopping mall services like hairdressers, food fair, cell phone stores, etc.
Rua de Cedofeita
Another iconic shopping boulevard in Porto is Rua de Cedofeita, in the Cedofeita district.
This beautiful area of the city, has being chosen by young people as well as local and foreign families who coexist in a neighborhood filled with cafés, typical restaurants and small shops.
Nearby you find Rua de Miguel Bombarda, Rua de Breyner and Rua do Rosário, where you can buy more original objects and clothes. If you want to look for design products and alternative stores this is definitely the place to look for.
Galerias Lumière
Also in Cedofeita and near Rua de Cedofeita is a mini-mall with more alternative stores and good places to eat, called Galerias Lumière. It is located at Rua de José Falcão 167 (see map).
Portuguese Handicrafts and Souvenirs
To buy typical objects and handicrafts, the most recommended areas are those near the river (the Ribeira) or the streets leading to it.
In the souvenir and handicraft stores you will find Portuguese products made with cork (one of its main export products) beautifully woven handkerchiefs, ceramic objects and sardines, tiles in all sizes and the iconic Barcelos rooster.
Also in the Bolhão Market you can get traditional souvenirs at a good price.
Remember that the most popular option to take home from this place of Portugal is the delicious Port wine.
Flea markets
The most traditional flea market is Vandoma, with second hand objects, used clothes and shoes, books, vinyls and toys. It takes place every Saturday from early in the morning on Avenida 25 de Abril.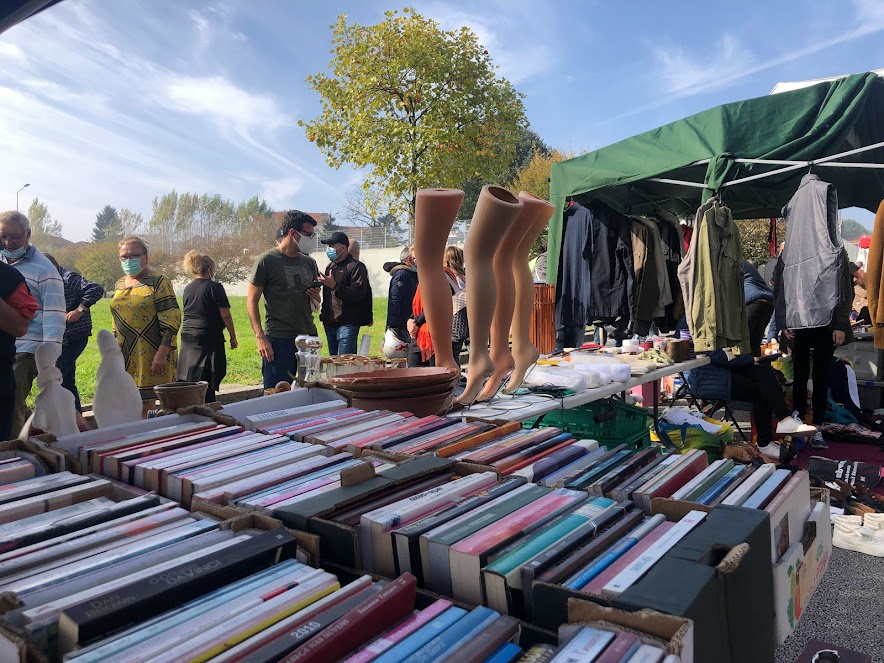 You can also visit the Flea Market, with locations that vary every Saturday. Good atmosphere and good products. For more information, check their facebook.
In Carlos Alberto Square, in Cedofeita neighborhood, they also have a flea market called Porto Belo Market, every Saturday from 10am to 7pm. You can find stalls with handmade crafts, art and accessories. Check out their facebook.
Shopping malls in Porto
For those who want more intense shopping sessions or who simply need to take shelter for a few hours from the rain or the winter cold, there is always the option of going to the shopping mall. Here is a list of the most popular ones in Porto.
Shopping Cidade de Porto
The Shopping Cidade de Porto, also known as Bom Sucesso, is located very close to Casa da Música and Mouzinho de Albuquerque square. It is small and already a few years old, but houses many popular brands. It is open from 10am to 11pm, every day.
Just across the street from the mall is the Mercado do Bom Sucesso, with several tapas stalls and restaurants. It is very lively every day.
Alameda Shop&Spot
Right in front of the Estadio do Dragão (Porto's stadium) is the Alameda Shop&Spot. This mall is comfortable to walk around and has a nice architecture. The good news is that those who don't enjoy shopping but like soccer, can visit the Dragão.
The Dragão subway station is across the street and connects you to downtown or directly to the airport.
Parque Nascente
The Parque Nascente shopping center offers, like the others, an array of options and stores. Its opening hours are from 10 am to midnight every day, including holidays. It takes a 20 minutes' drive from downtown Porto to get there.
NorteShopping
A little further from the center is Norteshopping, which closes daily at midnight, and is undoubtedly one of the largest shopping centers in Porto. A local's favorite, Sete Bicas metro station is only a quarter mile away
MAR Shopping
MAR Shopping is the furthest away from the city center, but with the one with the largest number of stores (including Ikea). It has an Imax cinema and a Lego Fun Factory park where children can have fun while parents go shopping. I tis located at Avenida Dr. Óscar Lopes, Matosinhos Portugal.
Vila do Conde Outlet
Vila do Conde Porto Fashion Outlet is located in the outskirts of the city, with stores of well-known brands and products with discounts of up to 70%. The last thursdays of each month, all the stores have a special sales event. The outlet closes only on December 25th and January 1st.
You can go using the subway (Estação Modivas Centro – Line B – Estádio do Dragão – Póvoa de Varzim) or by car. Address: Avenida Fonte Cova, 4485-592 Modivas, Vila do Conde. GPS: 41.306375 , -8.700528.
More about Porto
Santa Catarina Street
A pedestrian street of Porto with plenty of commercial activity. Full of locals and visitors all year round.