Andante Card
Porto's public transportion card
Andante Card
The Andante Card is a rechargeable ticket that allows you to travel on the entire public transportation network of the city, including Porto's metro, buses, and the local trains.
How do I use the Porto Andante Card?
These cards are not personalized, so they can be used by anyone. But they can only be used by one person at a time. That is, if 2 or more people are traveling at the same time, each person must have an Andante Card.
Because the card can be recharged, do not discard it after you use it.
You should always validate your trip at the yellow machines located at the entrance of the stations or platforms, and at the readers when boarding the bus, the streetcar or the Funicular dos Guindais.
When you pass it through the reader, you can see the number of trips you have left.
Children up to 4 years old can travel for free without having to purchase a card. After that age, it is free only for resident children with a special pass (U13).
There are two types of Andante cards that might interest you as a visitor. We will explain both, so you can decide which one best suits your needs.
1. Andante Tour Card
The Andante Tour card is a card created with the tourist in mind and is sold for periods of 24 or 72 hours.
This card activates a countdown clock the first time it is validated (it is always mandatory to validate the Andante card at the yellow machines at the entrance of the station, even if there are often no turnstiles or barriers). At the end of the validity period, it expires, and is not rechargeable, unlike the normal Andante card.
The biggest advantage of this card is that it covers the entire transportation network. You don't have to calculate fares, which in Porto is not easy. If you plan to use public transportation several times a day, do your math and consider buying it.
Prices
• Andante Tour 1 / valid for 24 consecutive hours after the 1st validation = 7,00€.
• Andante Tour 3 / valid for 72 consecutive hours after the 1st validation = 15,00€.
Where to buy the card
In the Andante stores (stations: Trindade, Campanhã, Hospital São João and Casa da Música)
In the official tourist information booths in Porto
In the tourist information desk at the airport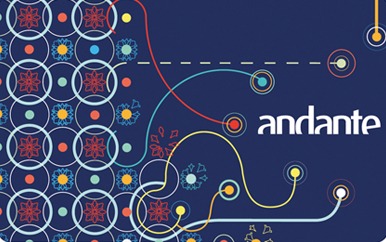 2. Andante Card
This is the "normal Andante card" (used by locals and you can use it too). It is a blue card and you can recharge individual trips or 24 hour passes (Andante 24).
With these cards you can ride the metro, buses and city's trains. You must always have your ride pre-charged before you travel.
Prices
EThe empty card, or physical card as such, costs 0,60€, to which you must add the intended travel option.
The prices of the trips in the metro of Porto, as in many other European cities, vary according to the number of zones you cross. Depending on where the trip starts and where it ends, the fare may vary.
A trip covering 1 or 2 zones costs 1,20€
A trip covering 3 zones costs 1,60€
A trip covering 4 zones costs 2€
(If you are traveling to Porto Airport from downtown you need a 4 zones fare which costs 2€)
If you choose to load your Andante Card with 10 trips at once, you will automatically receive 1 additional trip (these trips will all be of the same fare).
Children over 4 years old must have a travel card.
Where to buy the Porto Andante Card
You can buy it in the vending machines located in any metro station.
Recommendations
Once in downtown Porto you can walk to most of the attractions. If your hotel is in downtown Porto and you can walk without any problem, you will not need to use the public transportation much.
As a tourist, the best way to save some money on transport is by utilizing the Porto Card.
If you plan to use a rental car, you can pick it up at the airport.
More about transportation in Porto