SEA LIFE Porto
Porto's Aquarium
SEA LIFE Porto
El SEA LIFE Porto is the most famous aquarium in the city.
It is located next to "Parque da Cidade", so we recommend visiting both places in the same day if you are exploring Porto with children.
SEA LIFE runs the largest seahorse breeding program in the world (there are some beautiful species in this aquarium).
In Porto, they are involved in the rescue and rehab of sea turtles that end up injured on the beaches in the area.
The aquarium also supports the "Whale & Dolphin Conservation Association", which fights to end dolphin and whale hunting.
What to see at SEA LIFE Porto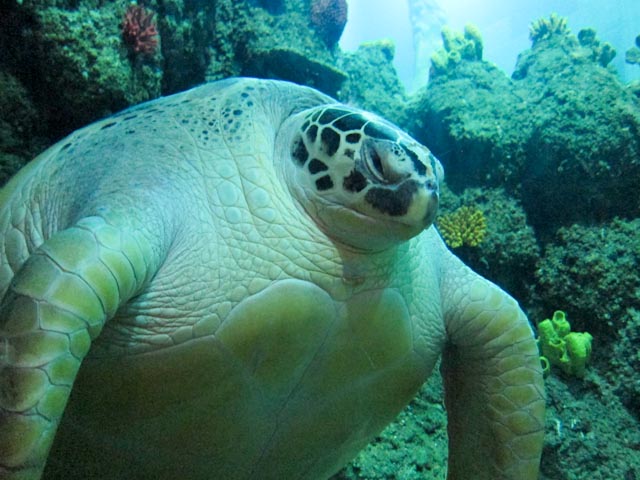 The aquarium is divided into several sections. Upon entering, you will see a short video presenting the different areas and then the tour begins with the freshwater species.
Next, you pass through a small boat that alludes to Porto and shows the local species.
In this area, lives a friendly lobster that you have to find in its hiding place.
Further on, you find a touch tank, where a guide offers you to learn more about sea urchins and starfish and you can interact with two species.
Here you begin to see part of the central tank, called " Neptune's kingdom" where sharks, the giant turtle you see in the picture, rays, groupers and many other species live together. There are also other small spaces with interesting marine species, such as the cow fish or the unicorn fish.
The most famous feature of SEA LIFE Porto is its underwater tunnel, where you can observe the species up close, including sharks and manta rays, and feel as if you are part of this submarine environment.
On the upper floor, you have another view of the central tank, and there are some vending machines where you can buy fossils, such as shark teeth, for 1€.
The manta ray pool is one of the most beautiful areas. You can listen to a short explanation about how they eat, their behavior and observe bones and other structures related to this species.
Don't miss the new Penguin Island!
At the end of the tour there is a café overlooking the sea, a store and a children's playground.
Special activity: Quiz for kids
At the admission desk, you can ask for a card with questions and answers. You must scratch off the color of the answers you think are correct and at the end you get a small souvenir of the visit.
The correct answers are in the guide located in each habitat.
Prices
Adult ticket 13.95€ / Children from 3 to 12 years old 9.50€ / Comprar billetes Sea Life Porto
Discount available with the Porto Card (only at the ticket office).
Address
1ª Rua Particular do Castelo do Queijo, 4100-379 Porto
Opening hours
Monday to Friday from 10.00h to 19.00h
Saturdays and Sundays from 10.00h to 20.00h
How to get there
Buses: 202 Clérigos; 203 Marquês; 500/502 Matosinhos; 205 Campanhã y 500 Lóios (São Bento)
More to see in Porto